Antique tractors make for unique lawn ornaments on Central Minnesota resident's lawn
The Cub tractor has been a particular pleasure for Wayne Aspengren to collect and display.
We are part of The Trust Project.
WADENA — Maybe it's the nostalgia of his old days on the farm that brought Wayne Aspengren to collect a lineup of Cub Farmalls that would make any antique collector smile.
Maybe it's the fact that he can fit seven of these tractors into his garage in a residential area of Wadena.
Or maybe it seems, it was just something fun to do.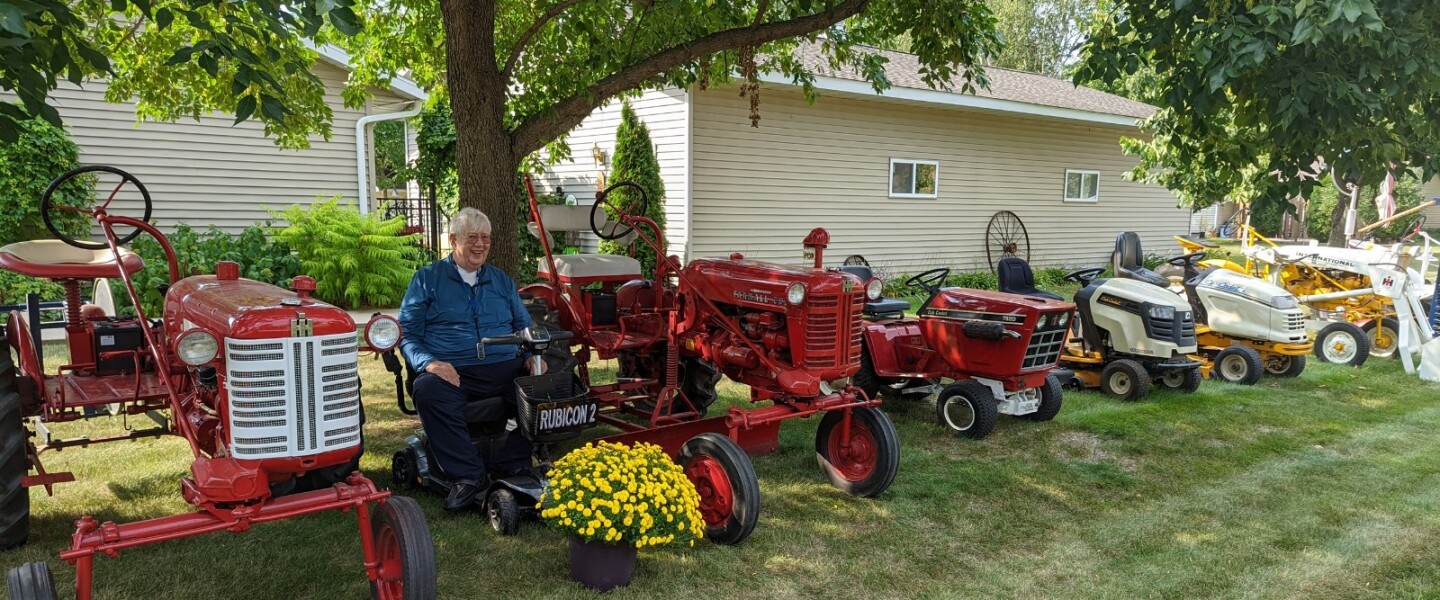 "It's one of those things that was fun," Aspengren said as he recalled the years he spent collecting the different pieces. "The chase was actually more fun than actually having it sometimes."
An example was finding a sickle mower attachment to go on one of the units. It was most of a day's journey to find the implement, than a long conversation and a long drive home with the new prize.
His passion for collecting these somewhat tiny tractors started in 1994 and only lasted for about 10 years. He sort of ran out of room for more. From the earliest 1950 Cub Farmall to the more recent cub lawn tractors, he's pleased with them all in their long lasting endurance. Of course, they don't see a whole lot of action anymore.
His fascination in these red colored, gas powered machines started back in his early farming days south of Wadena. He recalls seeing a neighbor, his name was Butch Raymond (sic). The 6 foot 6 inch 300 pound Butch would ride around the arm on that little tractor. It was a site that never left his mind.
"He looked funny on it," Aspengren recalls.
Adding to his tractors, he has just about all the attachments that go with them from plows, discs, mowers, a buzz saw, and more. All his tractors are gas powered except for one lawn tractor model that's a diesel. He bought them throughout Maryland, Pennsylvania and Indiana, when the couple lived in Maryland for a time after the farm crisis of the 1980s ended his farming career. His wife, Carol, got a post office position in Washington, D.C., which landed the couple in an area where the Cub tractors were more plentiful. The Cub was less common across the Great Plains as a larger tractor was preferred, Aspengren explains.
"My first tractor, I still have it, it's down at the farm (near Eagle Bend, Minn.)," Aspengren said of the first Cub he got back in 1994. He found the 1950 Cub to be a very reliable machine. So he tore it apart, repainted it and reassembled it. Things just took off from there.
"When I got done with that one, I had to get another one," he said.
Aspengren said he's not very good mechanically, and that seems to be OK for the average Cub owner.
"The bodies could be all smashed, they could look bad, but the engines were all pretty good," Aspengren said. He only had one that ate up oil. He had that worked on by a mechanic who found an easy fix. Parts weren't too hard to come by as there were around a quarter million of the Cubs in production.
Cubs were produced from 1947 until 1979 as a replacement for a horse or mule. The tractor featured a 4-cylinder, 9.25 horsepower gasoline engine, gradually increased to about 15 horsepower.
Aspengren's antique tractors don't get used beyond a run around the block nowadays. He typically would take them out for a few days during Memorial Day or Labor Day. This year he decided to leave them out a couple weeks for the neighborhood to enjoy. One vehicle that passed by and slowed had a young boy especially excited about the shiny tractors decorating the lawn. Aspengren's neighbor, a John Deere fan, was perhaps less impressed. He too sometimes adds his tractors to the display for some added color.
How much longer the display will be a part of the neighborhood is a bit of an unknown. Aspengren is getting up there in age, older than his antique tractors. Wayne said his wife Carol has sort of given up on getting him to start selling the tractors.
"I'm at that age, I'm going to have to do something," Aspengren said. He knows he's not excited to part with them, but it may come that his wife may get to decide what to do.
Until then, the tractors made their way back into the shop, nicknamed "Wayne's World," in just the right order so everything would fit just so.
If they make an appearance again next year, look for them near the Aspengren home at 1104 Kingsley Avenue SW.