House of hearts: Massive Wymer Lake home rich with history flips to the future
This is no ordinary house. "And behind here we've got a hidden room," said Heather Ware Nelson, as she pushes open a bookcase to reveal a secret room. It's just storage -- nothing creepy or exciting -- but the house at 51097 East Wymer Lake Road ...
This is no ordinary house.
"And behind here we've got a hidden room," said Heather Ware Nelson, as she pushes open a bookcase to reveal a secret room. It's just storage - nothing creepy or exciting - but the house at 51097 East Wymer Lake Road is more than 10,000 square feet of unique nooks and crannies that has visitors amazed and sometimes lost. The estate is currently being transformed from a home that everybody knows about in Frazee to a vacation rental that will soon be ready for the world to explore.
So why is this house "famous in a small town"? Because so much of the town has been touched by it.
Storied history
Marlys Jacobson is a little lady, but she seems even smaller in the massive house she's owned for 46 years. She lives here alone now, but that wasn't always the case. Jacobson lost her husband, Ken, two years ago. Together, they created a life full of love in that house... not just for each other, but for their own children and dozens of children in need.
"Even before we were married we talked about wanting to help kids," said Jacobson, who adds when they moved into the house in 1973, it was one-third the size. They had already adopted one child and had another together. Ken was a Navy veteran, they both were teachers, and both agreed they wanted to help those who needed it most.
"We immediately got into foster care for primarily teenage boys in trouble with the law or neglected or whatever," said Jacobson, adding that over the course of 12 years she and Ken took in more than 50 kids.
"And in the meantime we had a few of our own... lots of laundry and cooking!" she added. As one can imagine, though, space was crunched.
"So, in the late 70s my husband got out draft paper and started drawing plans....and this is the result of letting him have draft paper," laughed Jacobson, who says her husband named the house "Karinall Estate" after an old German estate he toured when he was in the Navy.
A large, magnificent addition was built onto the house to accommodate the growing and ever-changing family, which included an atrium with live trees and waterfalls, stonework from their family farm and a layout that twists and turns and seems to never end. The design was all Ken.
For years, that house served as a giant place of compassion, sacrifice and love, as the Jacobsons stretched out their arms to help, one child at a time. The sprawling property was home to those who needed a home, and a place where dozens of friends and family members would always meet for holidays.
After all the kids were long gone and it was just the two of them again, Jacobson says she tried to get her husband to sell.
"The two of us rattling around? I mean really, but he wasn't budging - he was like an artist who wasn't giving up his creation," she smiled, adding that he'd put the property on the market a couple of times but purposefully put it up for an unreasonable price.
"And then as he got sick and we knew there wasn't much time left, it seemed cruel to make him leave it," said Jacobson. "Oh yes, he loved it."
A bit of a fixer upper
"Everybody around here knows the Jacobson house," said Heather Ware Nelson, who grew up close to the Jacobsons on Wymer Lake. "I've known Marlys my whole life."
Since Ken's passing, Ware Nelson has been trying to help Jacobson sell the house, until one day she got a different idea.
"I said, 'Marlys, what would you think of turning this into an Airbnb?'"
"And I didn't even know what that was," laughed Jacobson, who ran it by some of her children, all of whom thought it was a good idea. None of them live very close to her anymore - the closest is the Twin Cities - but Jacobson would soon be reminded that you reap what you sow... and for her, that was a community full of people who adored her and her famous house.
Much of the decor was going on 30 years, and there were significant upgrades that would need to happen to transform the house into a vacation retreat - much more than what Jacobson would have ever been able to handle. That's when the community stepped in.
"We called the Knights of Columbus, we've had several organization helping us, church groups, high school boys..." said Ware Nelson, who is not only managing the remodeling projects but will also manage the property once it's up and operating as a vacation rental.
It hasn't been hard to find help, whether it's been people volunteering or professionals willing to work at deeply discounted rates. "I think they just love her that much because she's such an asset to the community," said Ware Nelson.
While Jacobson was gone over Thanksgiving visiting one of her children in Oklahoma, the "mice" were busy. From ripping out carpet and walls to painting and fixing to hauling out 46 years worth of accumulated "stuff," anywhere from 30 to 40 volunteers have been in and out, helping with various projects. Even Daggett Truck Line started up their engines for the cause, donating its services to help haul carpet from Fargo.
"I'm just so thankful and amazed," said Jacobson, who has been living in an apartment above the main house during construction and will stay there once the property is open for visitors.
The only major things that need to be done are a portion of the roof this spring and the installation of a new heating and air conditioning system. Everything else is pure aesthetics.
Now, with the help of her mom (who is an interior decorator), Ware Nelson is busy turning some Pinterest ideas into reality, as she and Marlys walk from room to room to room, planning what each one will be.
"It's quite an undertaking," said Dennis Dahl, a local contractor who worked laying new carpet inside one of those many rooms. But he has faith in it, he tells the ladies as they marvel at the look of the new flooring - if he can figure out where he's going. "I get lost in this place," Dahl laughs.
Just around a handful of corners is fellow Wymer Lake resident Karianne Hardmeyer, who is busy giving some walls a fresh coat of paint. When the place is ready for rent, she'll be offering up some of her services from her businesses, Shabby Chic Floral and Twisted Yoga, but this day she's one of several knees deep in projects.
"Some of it I'm volunteering because it's fun and we're a small community and we're neighbors," said Hardmeyer. "It's just fun to see things happen, and we all want to pitch in and make it happen."
Hardmeyer admits that when she toured the house and heard all about the plans, she was skeptical.
"I thought they were crazy," she laughed. "I thought no way are they going to pull this off, but the more people they get in here, the more they are pulling it off...and I think it's going to be super awesome."
The master plan
Once the house is finished, Karinall Estate at the Lake will sleep 32 and feature 2 fire places, 6 bathrooms and 8 bedrooms. It'll include a hot tub/exercise room and will be handicapped accessible. Each room and/or suite will be different, providing accommodations for a variety of people and needs.
"We'll have a swing bed that'll be hung from the ceiling that'll be above the atrium, so they'll be able to hear the waterfall," said Ware Nelson, who adds they're redoing the atrium area to include patio block and a coffee and tea bar with some bistro tables. From handmade wallpaper with real flowers embedded in them to another bathroom wallpapered in individual pages of the book of Napoleon Hill, to a room wallpapered in tin foil and corrugated steel from the Amish, this house will be full of personality and talking points.
In fact, nearly all of the decor being purchased for the property is used or repurposed - each item carefully selected and having its own little story and character.
There will also be a theater downstairs that will include complimentary popcorn and candy from Kenny's Candy in Perham. In fact, Ware Nelson says the idea is to incorporate as much of the surrounding community and its businesses as possible into the property, so that visitors can truly get a taste of what the area is about.
"We want this to be an experience, so if they (visitors) want paddleboarders to come in here, there's a paddleboard place in Frazee; If they want to go horseback riding, then we'll contact somebody for horseback riding," said Ware Nelson. "My mom does color analysis, so she would come out here and maybe do color analysis. If they want a massage, we've got somebody that can come here to do massages."
If the group is looking for a corporate retreat, Ware Nelson says they'll be ready to take couches out and bring big tables in.
As for Jacobson, she still smiles as she watches her old house - her husband's labor of love - being transformed into a new labor of love for many more to enjoy again.
"It is a journey," said Jacobson. "And I think God's on my side...I am convinced of that. I think it's why I'm so comfortable with this."
If all goes as planned, Jacobson and Ware Nelson are hoping to have Karinall Estate at the Lake open and ready for business by May 1.
1
/
5:
Heather Ware Nelson, left, will be the property manager of Karinall Estate at the Lake, working hand in hand with owner Marlys Jacobson. (Paula Quam / Focus)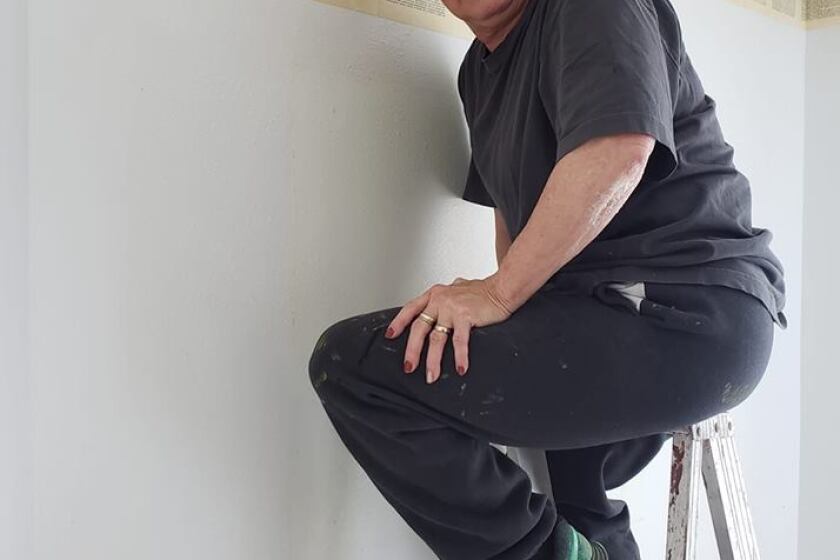 2
/
5:
Sharon Triglaff Jons is one of the area residents who has provided her talents as an interior designer to Karinall Estates outside of Frazee. (submitted photo)
3
/
5:
Dennis Dahl of Height of Land helps lay new carpet in one of the many rooms being remodeled in the house. (Paula Quam / Focus)
4
/
5:
High school boys from Frazee volunteered to help haul out old carpet and other "heavy lifting". (submitted photo)
5
/
5:
An atrium with live trees greets visitors as they enter the house. It is being spiffed up with new flooring and a coffee bar. (Paula Quam / Focus)
Mike Clemens, a farmer from Wimbledon, North Dakota, was literally (and figuratively) "blown away," when his equipment shed collapsed under a snow load.
The Minnesota Public Utilities Commission met on Jan. 5, 2023, to consider the application for Summit Carbon Solutions.
Qualified Minnesota farmers will receive dollar-for-dollar matching money to purchase farmland.