Banana bread fundraiser held for Perham resident recovering from mini-strokes
Sara LaFountain tried to power through intense pain, but when treatments failed to quell the pain, an MRI and CT scan bleeding in her brain.
PERHAM — Sara LaFountain recently returned to Perham to recover from bleeding in the brain that caused mini-strokes. For the time being, she is unable to work.
To alleviate the stress mounting bills can cause, LaFountain's family is baking up banana bread.
Ashley Masinas is taking orders on her Facebook page, offering different sizes and additions, such as walnuts or chocolate chips.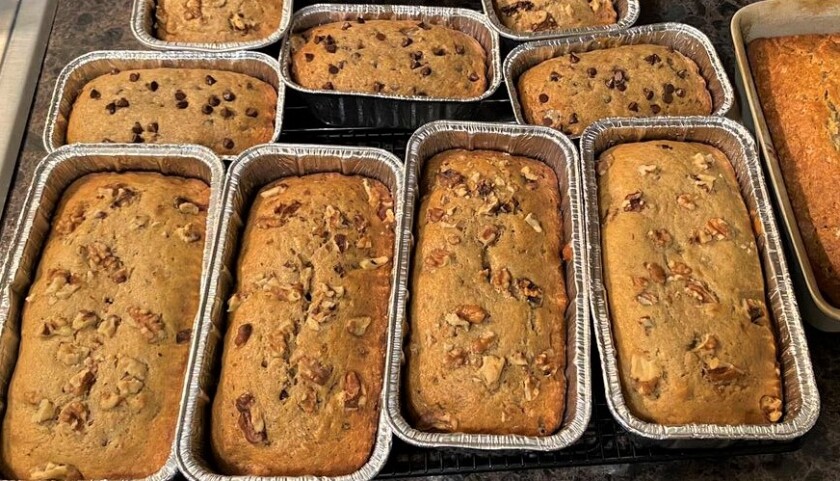 The 2004 Perham High School graduate is thankful for her family's support, the kindness shown by the community and the medical staff that helped diagnose her, which was no easy task.
LaFountain has grown accustomed to living with health challenges, as she was born with a Chiari malformation. She explained the defect is essentially a skull abnormality some are born with. In time, symptoms may develop, such as migraines, sleep apnea and tachycardia, she said.
When LaFountain found herself with a stabbing sensation on the top of her head, she wrote it off as a migraine.
"I was on the couch watching cartoons with my niece and nephew," she said. "Then, I started sweating profusely. I closed my eyes and just wanted to cry."
When her brother finished work and picked up his kids, LaFountain called it a day and went to bed. She woke to get ready for work — third shift at a local manufacturing business. However, it became obvious she wouldn't be able to safely do her job, and notified the manager.
"I've worked with migraines and feeling nauseous before, but this was awful," she said.
The next night, LaFountain headed to work with a manageable migraine.
"I'd worked through worse, so I thought it was a pretty good night," she said. "After I left work, I started getting the same stabbing pain in my head."
This time, LaFountain headed to Perham Health. She said that she was given a shot called a "migraine cocktail." She noted it is a common treatment, and was hopeful it would do the job. After a day passed, but the feeling had not, she returned to the hospital. An IV was administered, tests were taken and she was sent home. Her next visit included an MRI and CT scan, which showed she had bleeding in her brain. The find was serious and she was told transport was ready to take her to Sanford in Fargo.
"It was my first ambulance ride," she said. "Under the circumstances, the paramedics made the ride as pleasant as possible."
After arriving at Sanford in Fargo, more tests were done. She called an ICU room home for three days. While the nurses and doctors were "phenomenal," LaFountain was scared of the unknown.
Answers came soon enough. An ultrasound of her head and another MRI confirmed she had a mini-stroke, or bleeding on top of the brain.
"They don't know why it happened," she said, noting they removed her from some medications she was taking for Chiari malformation and depression and prescribed new medication.
LaFountain is healing and finding a new normal with the side effects of the new medication, which include spasms. She hopes to join the workforce again soon, but in the meantime, is thankful for those who are helping her get by.