Looking Back: Headlines from 50 and 25 years ago in Perham
The Perham High School Class of 1972 graduates, $100,000 total is donated to the school and city, and other top headlines from Perham's past.
PHS Commencement Exercises are Tonight: 124 students were scheduled to receive their diplomas at the 8 p.m. 1972 graduation ceremony for Perham High School, including valedictorian Mary Martin and salutatorian Susan Adams. The entire auditorium was reserved for family members, with each graduating senior given five tickets to distribute.
New president and commander: Mrs. Frank Sczygiel was elected the president of the Ladies' Auxiliary, and Gerald Davidson was elected commander of the Perham VFW and Auxiliary Post 4020. They were installed at their individual meetings on May 18. The post also authorized a $500 scholarship to a Perham High School student, which would be awarded at the graduation ceremony.
Jackets Post 9-3-1 Mark Before Tourney: Perham High School baseball players posted a 9 win, 3 loss, and 1 tie record before entering their sub-district tournament, where they would start by playing against the Frazee Hornets. This was the team's best record season since 1968.
From the Thursday, May 25, 1972, Perham Enterprise-Bulletin
Does PHS's new grading system make the grade?: The Perham-Dent School Board approved a change to the grading method toward the end of the 1997 school year, and students were not happy about it. Students brought in a petition with 311 signatures to the May 14 school board meeting asking to revoke or delay this change. While the grading system was more accurate, it changed students' GPAs during the middle of the semester, changing their ranks. The board decided to work with students to come up with individual solutions.
$50,000 gift for school and city: Harley and Velma Karvonen gave $50,000 each to the city of Perham and the Perham-Dent School District. The money was invested, and the interest on it was used for summer reading at the schools and the summer rec program for the city.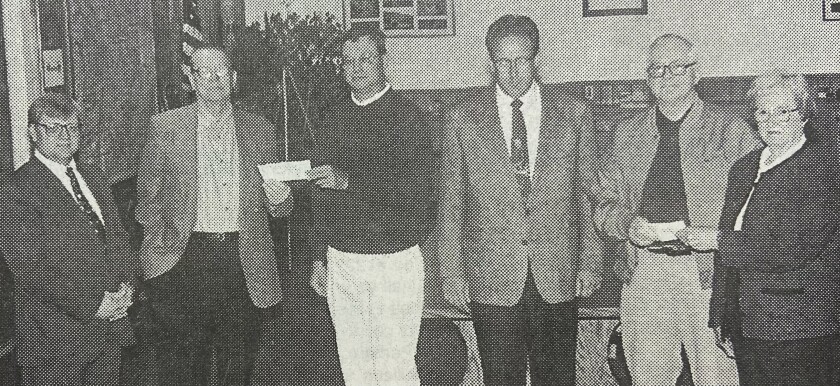 PWMS sixth graders discover area history: Middle school students visited the Perham Memorial Home in conjunction with Perham Memorial Hospital and National Nursing Home Week. Students met and interviewed local seniors about their lives, which they would then write down for publication at a future date.
From the Thursday, May 22, 1997, Perham Enterprise-Bulletin