Marion Lake resident exits truck before train collision on Jan. 5
"What was I thinking then? Nothing you can print," Brent McEwen said.
We are part of The Trust Project.
DENT — Brent McEwen stood in the midday sun and watched his pickup truck get flung by a train on Thursday, Jan. 5 in rural Perham.
"What was I thinking then? Nothing you can print," he said. "Now, it makes me think of this saying: you know what happened yesterday and there is nothing you can do about it. You can take care of what you can today. But, tomorrow you won't see coming, until you see the train."
With a grin on his face, the 67-year-old stood in the parking lot of a Perham auto body repair shop next to his mangled 2004 GMC Sierra pickup and recalled a day he won't soon forget.
"I'm still upset I didn't get to go fishing," he said, noting he heard a train when he left his house near Marion Lake, around 3 p.m. "I was heading to get minnows in Richville and the tracks aren't too far from my house."
He drove a short stretch of Cozy Cove Road to where it meets 385th Avenue in Otter Tail County.
"I stopped before the tracks and looked both ways," he said. "I didn't see the train yet, so I went."
On the other side of the tracks was a berm of snow that McEwen said was likely created when snowplows cleared the roadway.
"I got caught in the edge (of the snow berm), so I put it in reverse to back up and try four-wheel drive, but the front dropped (deeper into the snow)," he said.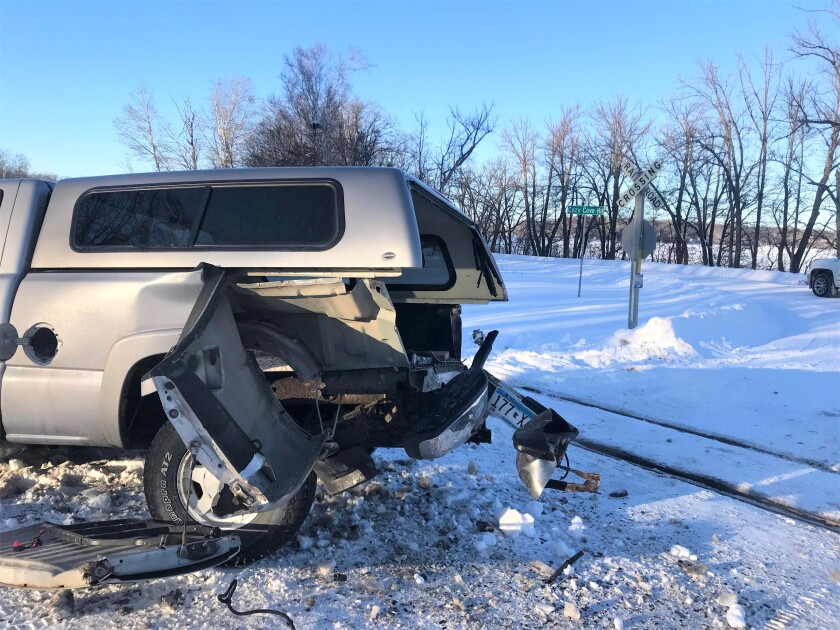 Several inches of the back end of McEwen's pickup truck were on the train tracks.
"I was going to try and rock (the pickup) out, but then I heard the train," he said.
He explained the road crossing occurs near a bend in the railroad tracks that limits the view of oncoming trains for both driver and the train conductor. So, when he heard the train, McEwen knew there was no time to hesitate. He vacated the vehicle and hustled to a safe distance from the tracks to prevent injury from potential airborne debris. McEwen said the train clipped the back end of his pickup, ripping off the tailgate and bumper. There was also severe damage to a rear quarter panel that prevents one of his pickup's quad cab doors from opening.
"I just stood and watched," he said, adding the train was able to eventually stop, after which crew members checked on him. "They were pulling about 10 cars. They said if they had a full train, maybe 60 or 100 cars, they wouldn't have been able to stop until they got to Richville. They said the area is one of the worst intersections because of the turn."
When the ambulance arrived from Dent, McEwen said the person who exited was the same man who helped secure a loan for a trailer he purchased.
"I said, 'I suppose you're the mayor too,'" McEwen said. "He smiled and said, as a matter of fact …"
McEwen said since that moment of light banter between him and the loan officer/first responder, he hasn't been upset over the accident or potential loss of a vehicle he bought with the intention of driving for the rest of his life.
McEwen said after the vehicle with 130,000 miles was towed out of the ditch, he was able to drive it to Perham and leave it at a repair shop to see if it is salvageable.