Perham graduate follows dream, gets cast in Chanhassen production
Sam Stoll will be performing in the Chanhassen Dinner Theatre's production of "The Prom" during its Feb. 10-June 10 run.
PERHAM — Performing at the Chanhassen Dinner Theatre is something that many Minnesota kids with a love for the performing arts dream about. Sam Stoll, a 2010 Perham graduate, gets to live that dream.
Stoll recently announced — to the many congratulations from those in the Perham community — that he will be performing in the Chanhassen Dinner Theatre's production of "The Prom" during its run from Feb. 10- June. 10.
"I think I saw 'West Side Story,' and I saw 'Footloose' (at Chanhassen) ages ago when I was in high school, and I remember being like, 'Oh my gosh. These people are doing this, eight shows a week, and this is their one job? That is so cool,'" Stoll said. "I've always wanted to work there, and when I got the job, I was thrilled. I knew a couple people in the show that were very sweet. Every single person has been wonderful."
Though Stoll is performing at Chanhassen now, his life and career in theater started many years ago when he was growing up in the Perham area. He attended St. Henry's Area School for grades one through six and started off more focused on choir and singing than theater.
Once he was in high school, he started getting involved with speech and even participated in the community musical his junior and senior years.
"I was such a black sheep growing up," Stoll remembered. "My whole family is very much (interested in) football, sports, fishing, hunting, and I mean, I appreciate it. I enjoyed it, but ever since I was a little kid, there's something about music and singing that always just fascinated me."
His choir teacher, Kevin Kosiak, and his public speaking teacher, Dr. Sandra Wieser-Matthews, were both pivotal in helping Stoll figure out what he loved and wanted to do after high school. Even though his family had slightly different interests, they were always supportive of his interests and engaged in what he loved.
"I always loved it growing up," he remembered. "Like, my mom has a video of me in my bedroom, and my brothers joined me too … We had sunglasses on, and we were listening to the whole album of NSYNC and just dancing around my room singing. It couldn't have been happier. It's my favorite thing."
Soon, however, his time in Perham came to an end when he graduated high school. It was time to continue his education at Minnesota State University in Mankato. When he first got there, he was going to pursue both music and theater. However, he quickly learned that the musical theater program was so intense that the only way to succeed was to exclusively focus on it.
So, he decided to pursue musical theater. It was nonstop, but he very quickly learned how to act. They did several shows a year, and he made some of his best friends during his time at school. However, his theater career really started to take off when he was in his last month of school. He got cast to work in a new musical in the Twin Cities.
"I was driving up back and forth from Mankato to the cities like every weekend, which is really tough," he shared. "And then, I also worked at Valley Fair that summer. It was fun, and it was good because I just had never worked outside an educational setting. It's different when you're actually working."
That was only the start of his incredibly busy career in musical theater. While he was originally going to stay in Minnesota, he ended up booking the nonunion tour of "Jekyll and Hyde." As someone who wanted to travel, the tour sounded exciting. And once he went, it was, indeed, amazing. He traveled all throughout the United States — visiting about 35 different states.
His career didn't slow down from there. He worked in Dollywood, on some cruise ships and then even started doing some more regional work. For a while, he moved to New York, and he got to live his life doing what he loves.
"It's awesome," he said. "I think sometimes like, I have to pinch myself because I never would have thought that (this would be my job). Like, I always wanted to do this, and I knew I would do something related to the arts … I just sometimes pinch myself because I'm like, 'I get to perform and make a living doing it.'"
With theater, however, you can never really rest. Even though you may have a job for a while, it's contract work. You always have to be looking for the next job. In Minneapolis, however, the contracts tend to be longer, Stoll shared, and the theater community there is great. This is one of several reasons he decided to move back to Minnesota once the pandemic hit in 2020.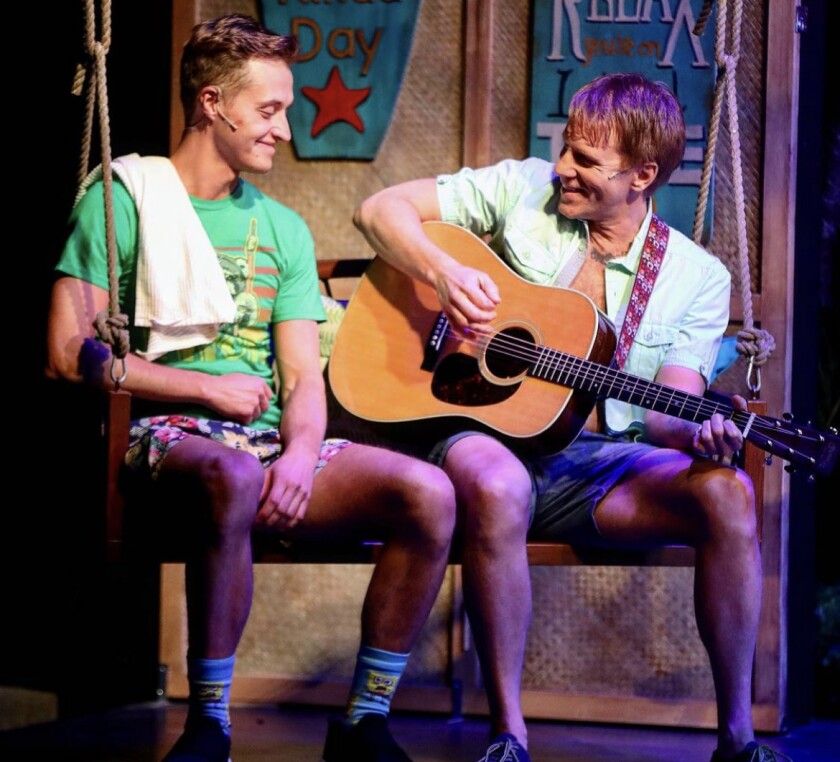 "I love New York City," Stoll reflected. "It pushed me a lot, but I also grew up in the country near Richville. It was a wonderful life; I loved it. I'm so used to having fresh air and space and green, and New York doesn't have a lot of that."
He realized he would be happier if he was able to set down roots in a place with parks and fresh air, more consistent work, and a strong community. So, here he is performing in the chorus of "The Prom" at the Chanhassen Dinner Theatre.
Stoll describes "The Prom" as a high-energy musical comedy about a group of teens, centered around a love story between two girls. While the story is deep and loving, it's also quirky and goofy. Tender and sweet moments come along with the laughs. Stoll said the show is for all ages, and he hopes that the kids who watch it will be able to see themselves in the story.
"I'm grateful," Stoll said about the Perham area. "It's a really awesome community, and I feel like I got a really good education and supportive system to do what I'm doing. If I didn't have that, I don't know if I would have been like, 'I'm going to do this huge, risky thing and spend all this money and go to school for something that is not going to guarantee work.'"
But he did find work he loves, after all. And Perham community members will be able to see one of their own do what they love once "The Prom" hits the stage at Chanhassen.