Boys basketball: Jackets knock off another ranked team
The No. 9 Perham boys basketball team beat No. 11 Watertown-Mayer 67-61 on Saturday in St. Michael-Albertville.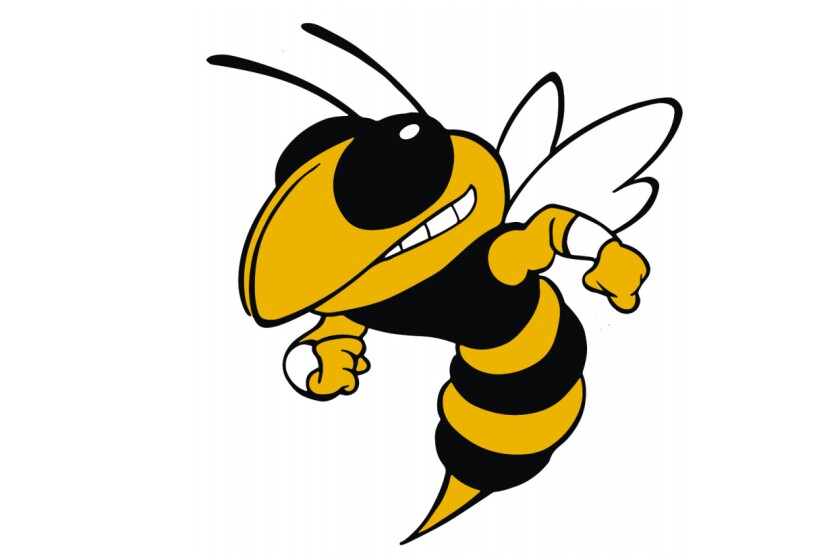 ST. MICHAEL – Only six players touched the floor for the Perham boys basketball team in Saturday's win over Watertown-Mayer.
The Yellowjackets moved to 15-1 on the season with a 67-61 win over the Royals (10-5) on Saturday at St. Michael-Albertville High School. Micah Thompson and Soren Anderson each scored 20 points in the six-point win over the No. 11 Class AA school.
Perham led 37-23 at the break, giving itself enough cushion to hold onto its fifth-straight win.
Watertown-Mayer's Albert Rundell scored 26 points to lead all scorers. Perham was 26-of-49 from the field, including 10-of-23 from three-point range. The Royals went 23-of-55 from the field.
Alex Ohm was an assist shy of a double-double with 10 points and nine helpers. Jacob Daniels had 14 points and five boards. Thompson also had a big night on the glass with nine rebounds.
The win followed a victory two days earlier over Barnesville. Perham got the better of the Trojans 69-40 in their second battle of the season. Soren Anderson scored his 1,000th career point in the Heart O'Lakes and Section 8-2A win.
"I think the Barnesville game was a real statement win," Anderson said. "They guys were pumped. Going into it, the guys wanted to make a statement – get out and go. We got it done. Against Watertown on Saturday, we knew they were going to be good. We were fired up. In the first half, we started out hot. Then they went into a zone and slowed the game down a little bit. They clawed back into the game, but we held them off. It was just a really good, hard-fought win."
Anderson had eight boards to go with his 20 points. Thompson had 14 points, seven rebounds, five assists and three steals. Ohm also ended in double figures with 11 points.
Perham is currently the No. 9 team in Class AA, according to Minnesota Basketball News. After a Friday night road game at Frazee, the Yellowjackets will play Bemidji and Cherry next week at The Hive.
PHS 27 42 – 69
BHS 22 18 – 40
PERHAM- Alex Ohm 11 points, 2 rebounds; Micah Thompson 14 points, 7 rebounds, 5 assists, 3 steals; Evan Kovash 4 points, 6 rebounds, 1 assist, 1 steal; Soren Anderson 21 points, 8 rebounds, 8 assists; Jacob Daniels 4 points, 1 rebound, 3 assists; Noah Thompson 1 assist; Blaiz Schmidt 2 points, 3 rebounds; Gage Aanenson 2 rebounds, 1 steal; Mason Happel 9 points; Connor Colliton 2 points, 1 rebound; Ashton Detloff 2 points
BARNESVILLE- Zach Bredman 6 points, 1 rebound; Gannon Bolgreen 5 points, 3 rebounds; Braeden Bredman 6 points, 1 rebound; Owen Riddle 8 points, 3 rebounds; Carson Hagen 3 points, 2 rebounds; Tate Inniger 7 points, 3 rebounds, 1 block; Isaac Maneval 2 points; Wyatt Sutter 3 points, 2 rebounds
WM 23 38 – 61
PHS 37 30 – 67
PERHAM- Alex Ohm 10 points, 2 rebounds, 9 assists, 1 steal; Micah Thompson 20 points, 9 rebounds, 3 assists, 1 steal; Evan Kovash 3 points, 5 rebounds, 2 assists, 1 block; Soren Anderson 20 points, 6 rebounds, 5 assists; Jacob Daniels 14 points, 5 rebounds; Blaiz Schmidt 3 rebounds, 1 steal
WATERTOWN-MAYER SCORING- Wyatt McCabe 8, Benjamin Ranger 1, Jacob Rowan 6, Michael Foley 5, Albert Rundell 26, Tyler Sinsabaugh 3, John Mueller 4, Justin Kind 8